How to register
Do you want to register for the ČEZ Jizerská 50, Běhej lesy, or Ski Tour? Register via the new SportID registration system, in which you will be able to easily manage your registration, order additional services and monitor all of your results to date. How to do it?
1. REGISTRATION IN THE SPORT ID
First, it is important to create a profile in the SPORT ID system. If you have already taken part in any of our races, just enter your name or e-mail address and we will trace you in the system and add the past results to your profile. We will send you an activation link by e-mail so that we can verify your identity. Click on the link and enter a new user name and a new password, which you will use for registering in the system. Be sure to enter the e-mail address that you used in the past. If you change your e-mail address, write to us at info@sportid.cz and we will change it in the system.
2. LOG IN TO THE RACE
After completing the registration add to your profile relevant data, so that you can enter the race. Do not forget a contact person or relatives whom you want to register as well. Then click Register => choose the race, you want to participate.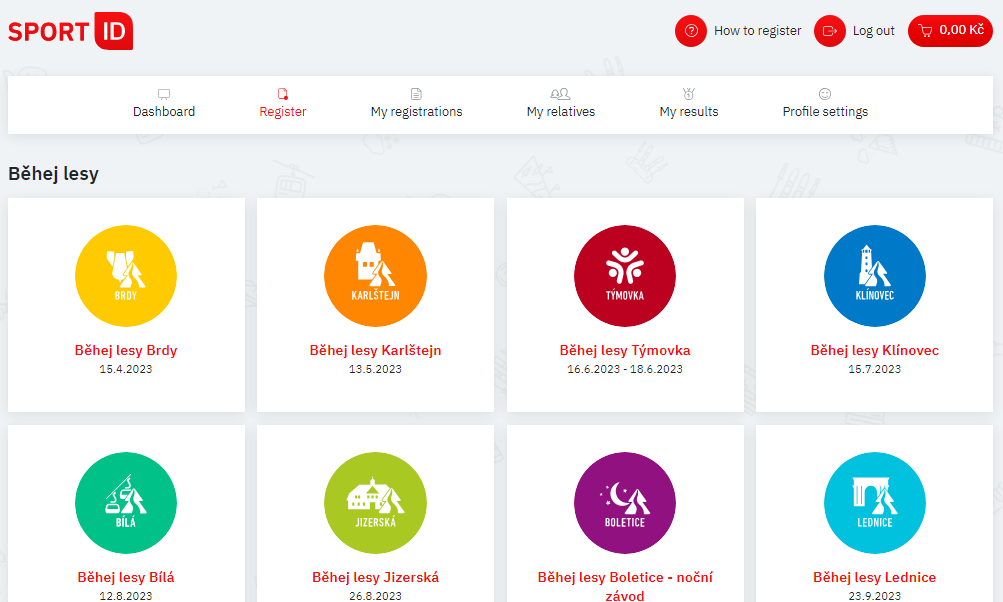 3. SELECTION OF ROUTE
Then select which particular race you wish to compete in. If you want to take part in more races, choose the packages.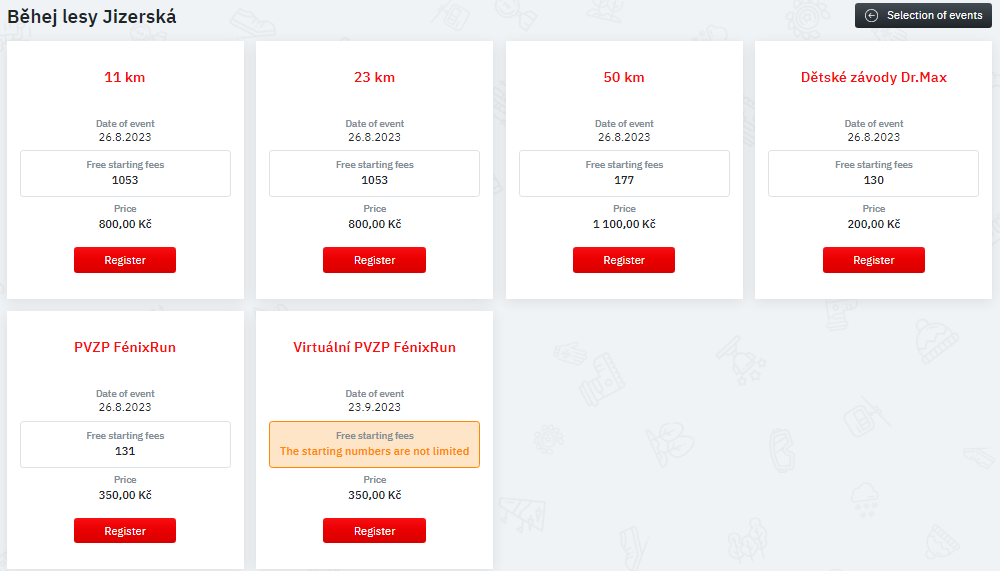 4. ADD A SECOND COMPETITOR
Even before you choose the payment method you can enter another competitor.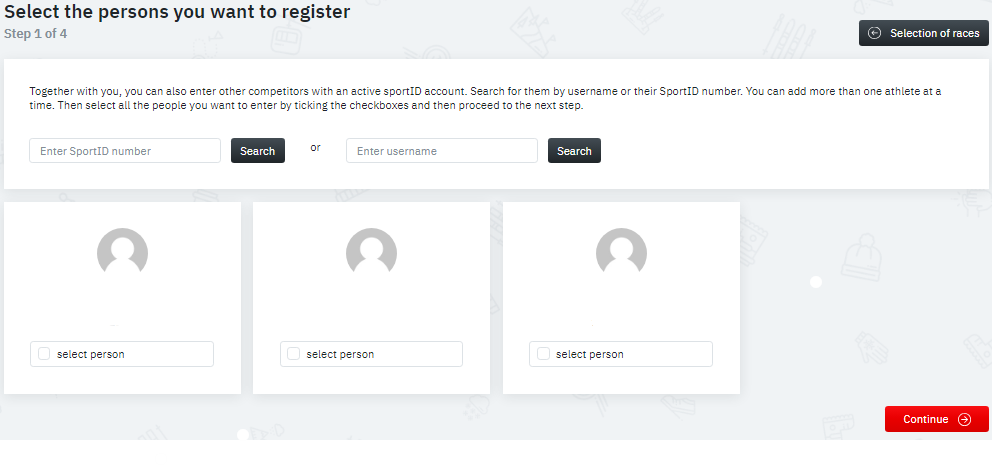 If you want to enter your children or other family members, click Add relative and select the person registered in the section My relatives. The advantage is that you can do all this with a couple of clicks and you can pay the race entry fee straight away. But if this person wants to enter the race independently, you will have to separate the accounts.
You can register a person who is not your relative and find them using the user name. It is important for the person you want to find to be registered in the Sport ID system.
5. SUPPLEMENTARY SERVICES
In the next step you can order a parking card, T-shirt, a nutrition plan from Enervit, etc. These services can be ordered separately after the completion of the order. Then click on Summary and choice of payment.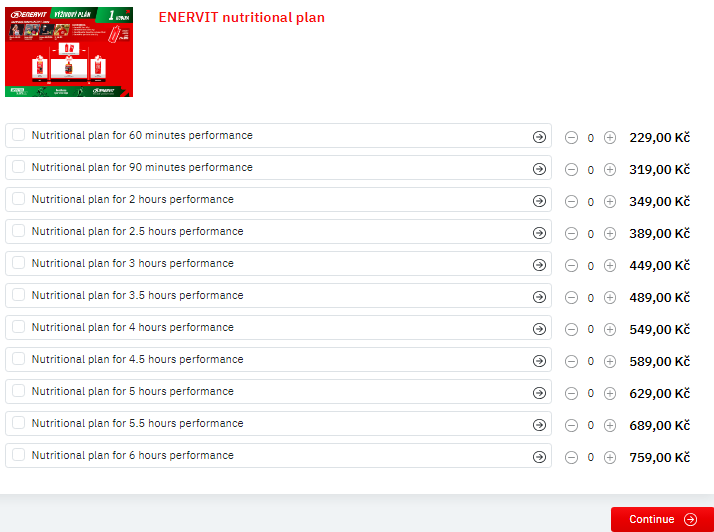 6. CHARITY
Through some races you can contribute to charity. The decision is entirely up to you. If:
To make a donation, select the amount and click on Summary and Payment Selection
Don't want to donate, give Don't want to donate to charity.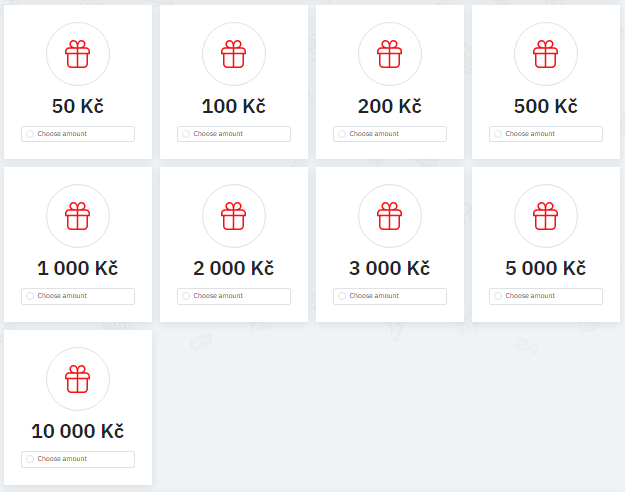 7. RECAPITULATION OF BASKET AND COMPLETION OF ORDER
Then just choose the fee method of payment and finalize your order. You will receive confirmation of registration for the race by e-mail. To complete the order, make the payment within 3 days.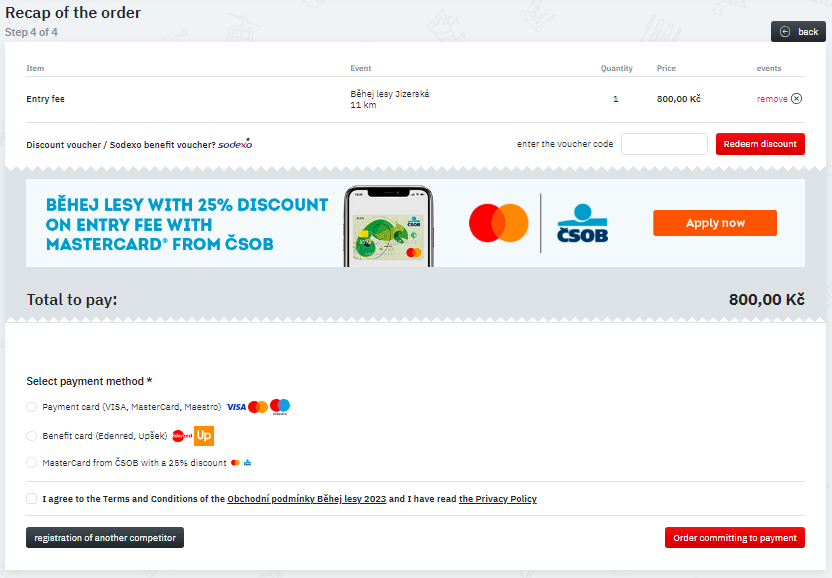 8. ENTER ANOTHER RACE
Do you want to enter multiple races? Then click on the icon Enter race and choose from the list of races.
9. ENTRY STATUS
You can follow your entry status in the section My entry, where you can also order additional services later. In the section Results you will how you did in past races.